Posted on January 22nd, 2018
Saturday, February 24, 8:30 am to 11:30 am.
You are invited to this FREE event and meet the team from Real Estate Revealed Radio Show!
>> RESERVATIONS Required! Seating is Limited. <<
RSVP by February 16th: https://goo.gl/ZhE4qG
•8:30 am to 9:30 am   Eat, Drink & Network
•9:30 am to 11:00 am   Presentation begins promptly at 9:30 am & concludes with an Open Forum for your questions!
•11:00 am to 11:30 am  Mix & Mingle!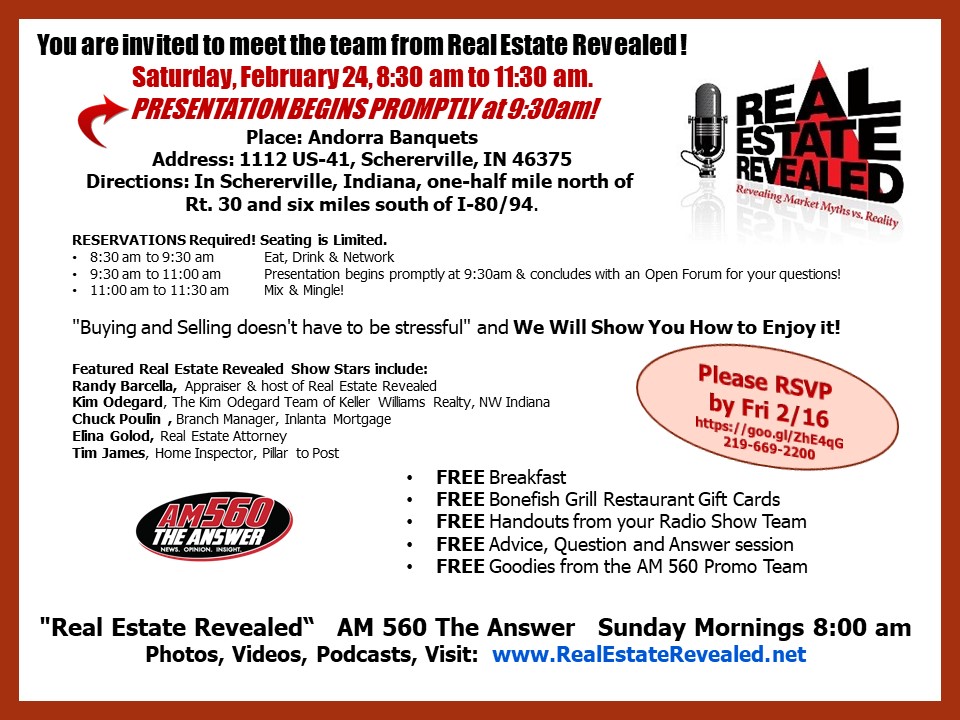 "Buying and Selling doesn't have to be stressful" and We Will Show You How to Enjoy it!
>> Featured Real Estate Revealed Show Stars include:
* Randy Barcella, Appraiser & host of Real Estate Revealed
* Kim Odegard, The Kim Odegard Team of Keller Williams Realty, NW Indiana
* Chuck Poulin, Branch Manager, Inlanta Mortgage
* Elina Golod, Real Estate Attorney
* Tim James, Home Inspector, Pillar to Post
PRESENTATION BEGINS PROMPTLY at 9:30 am!
•FREE Breakfast
•FREE Bonefish Grill Restaurant Gift Cards
•FREE Handouts from your Radio Show Team
•FREE Advice, Question and Answer session
•FREE Goodies from the AM 560 Promo Team
Place: Andorra Banquets
Address: 1112 US-41, Schererville, IN 46375
Directions: In Schererville, Indiana, one-half mile north of Rt. 30 and six miles south of I-80/94.